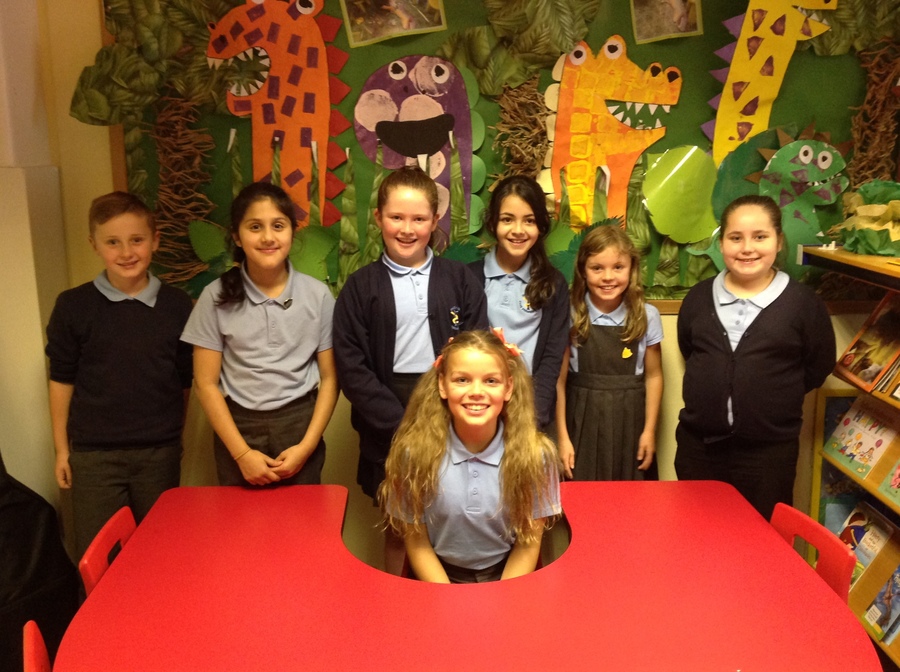 School Council:
Our new school council/ communications team has been voted in!
This year we are going to be a 'smart school council'. We will be looking to involve as many members of the school as possible to make positive changes to Parochial. The school council will work as a 'communications team' to coordinate action groups. Action groups can be made up of any children in the school who want to work towards a specific goal that they think will make our school a better place to be.
Thursday 14th May
We have set up a £5 challenge for the school council to get involved with. We are currently thinking about all the business ideas we can come up with and exploring which might be the most profitable. We were visited by members of the PTA to launch the project and come up with some ideas.
By the end of the project we need to give back the £5 we are borrowing plus 50p interest! Wish us luck on out business adventures!
Friday 9th of March
During our school council meetings we have been busy getting our action groups up and running. We are currently working on create a 'bananagrams' competition for which we have developed an action group and a 'morning running group' action group. The groups are due to meet next week to work out the logistics of how to get the groups up and running!


Friday 19th January
We have gotten our class meeting tool up and running and today we are on to our second meeting. The communications team went to year 1-6 to find out what they would like as there house point treat at Easter. The winning option was a visit to Stamford Park! Today we are asking what we can do to make our school a healthier place... we are looking forward to hearing everyone's suggestions.
The next time we do a class meeting, we will hand the responsibility over to class members in KS2 so that we are only responsible for collating the evidence.
Friday 5th January
Today, the school council held their first class meetings across the whole school! We decided that we wanted our first question to be 'What should the house point treat me?' We gave the classes 5 different options for them to pick from. We really enjoyed holding the meetings. We have decided that class meetings should be held every 2 weeks in the beginning. We will facilitate the next one, after that, members of each class will take over and we will just analyse the results!
Tuesday 19th December
Today we spoke about what our class meetings will look like when we come back to school after Christmas. The council will run them in each class on the first Friday of the new half term. We have looked through the advice from the smart school council website and we have set up our own gmail account now (very official!) so we are just about ready and raring to go with our first class meetings to be held on Friday 5th of January!
Friday 17th November
In our suggestion box, there were a couple of requests for trampolines to be part of our PE sessions. The council had a chat about this and thought we wouldn't be able to do this because of cost and the amount of room the trampolines would need. For a house point prize, the school council would like to find out how much it would be to take the winning house to 'jump depot'.

One of the concerns in Mrs Wright's 'concern box' was children wearing earrings. Because of this, 2 members of the school council went around the school to take a tally of the amount of children wearing earrings. They found 2 x children in year 3 that were wearing earrings. They spoke to the class teacher and are going to help remind children that part of our uniform policy is no earrings.

Another of Mrs Wright's worries was that a lot of children are forgetting to bring their P.E kits. The school council have written letters and are giving them out to class teachers. The letters would go to children when they forget their kits.

Some members of the school council would like a year 6 books club – this needs investigating. Potential action group to be started up.
Thursday 9th November
Today members of the school council met up with the senior leadership team. We attended their weekly meeting to discuss the benefits of having a smart school council at Parochial. The senior leadership listened to the points we made about how the new school council will involve everyone and that we want to work closely with them during decision making so that we can have a hand it improvements throughout this year.
Thursday 26th October
This lunchtime we had a quick meeting about how we wanted to present to the SMT on the first Thursday back after half term. We have written a part each which describes what the smart school council is and why we feel that the senior leaders in our school should support this movement. We have booked some time to present to the SMT on Thursday 9th of November!
Friday 13th October
At lunch today, we met to talk about the week we'd had. Our Friendship ambassador decided that she would really like to have some worry boxes in each class. She has now recruited some helpers and is busy making them!
We also organised for 6 members of the school council to stay behind on Monday after school to talk about the school council to the teachers at the staff meeting. We will be meeting on Monday lunch time to discuss what they would like to explain to the staff. Meanwhile, we will have a think over the weekend about what we would like to include.
Tuesday 26th of September 2017
Today we met Parochial's chair of governors. We had the chance to speak about some exciting opportunities at school, what w (as a school council) have done so far and what we would like to do in the future. We spoke about how, this year, the school council will run differently from previous years and that the main difference is that we are now meeting on a weekly basis.
During our meeting, we gained a better understanding of the role of the Chair of governors. We now understand how the leadership team in school works with the governing body to make big decision about our school. Hopefully we can get in on some the big decisions that are made this year!
22nd of September 2017
Today we met for lunch again to discuss who governors are and to set up a meeting with the chair of governors.
Meeting to take place at 2:30pm on Tuesday 26th September.
What is the role of the chair of governors?
A governor is someone who you don't see every day in school but they have meetings regularly to talk about how the children in the school are doing. The chair of governors is in charge. The chair of governors set rules for the children and staff in the school to follow. They also make decision about the school such as: how money should be spent and which teachers they would like to work in the school.
What questions might we like to ask them?
How long have you been the chair of governors at our school?

What is it like being a chair of governors?

What is the most important decision you have made for the school?

What do you have to be good at to be a chair of governors?

What does your job, as the chair of governors, involve?

Do you enjoy being a governor? Why?
15th of September 2017
Today we met for lunch to complete a smart school council audit. We worked together as a communication group to question our pupils and staff to find out what they think about our school at the moment and how they believe it could be improved. We will also present the school audit to our governors at their next meeting so that we know what they think too.
Communication team have already identified the need for:
An equipment action group
After school club action group
Reading/book led action group
8th of September 2017
To begin the year, our communications team have come together to answer a few questions about their role and expectations. Here is what they have to say...
What are you learning by being a school councillor?
" To have responsibility and listening skills." Issie
"Team work when you are in a group" Ruby
"The ability to communicate with younger children" Jack
"You gain more confidence to work in a group." Charley
"Socialising with people and making some things possible" Hannah
"How to do things fairly and not be too bossy" Nilufer
"Be active in the school and take part in more" Jamshaid
"Listen skills because you have to listen to other people's ideas" Liaba
What does it look like to be a leader?
"They are always smart and setting a good example and helping others if needed" Issie
"They will be a good role model" Hannah
"They are always helping other people and trying to make the school better" Ruby
"They are kind and generous" Nilufer
"They never cheat and are always fair" Jamshaid
"They treat people how they want to be treated" Jack
"They are always giving advice to people" Charley
" They are loyal to members of the school." Liaba