Global Neighbours
Well done everyone! Last November, we achieved the Bronze Award!
It is to show that we are Global citizens and that we are interested in local, national and global issues. We regularly reflect on present day issues, form opinions and come up with action plans of how we could help those in need. This is what we are doing:
Picture News – weekly circle time reflections and discussions on the most current themes
Global Citizen Award - every week one child is awarded for their empathy or particular action taken to improve the lives of others.
Last May, Year 1 pupils wrote letters to the Prime Minister, showing their concern about the plastic in the oceans and the future of our planet.
Year 3 pupils were learning about the rain forests and showed particular concern about the deforestation of our planet.
Year 4 pupils created posters advertising cleanliness around the school and in the community. They showed that littering and dog fouling around the school is unacceptable.
Year 5 pupils were particularly successful with their letters to the supermarkets regarding the use of plastic. they suggested improvements and alternatives to plastic packaging. They also received a number of encouraging replies.
Year 6 pupils worked alongside our local PCSOs to improve the safety around our school, especially parents parking on pavements.
Our last year's Science Week was a great success. We organised a ''Trashion' Show - clothes we wore were made from plastic and other rubbish. We joined in a number of inspiring workshops, all concerning the eco issues and the future of our planet.
Year 6 pupils visit the residents of the Willow Wood Hospice.
Year 4 and 5 pupils regularly meet the elderly in the local community at St Gabriel's 'Place of Welcome'
We meet St Michael's worshipers during the Eucharist Services at our Parisg Church.
Lenten Charity and our link with the Infinity Initiatives (Food Pantry, Pay-what-you-can Café) is getting stronger with our Harvest contributions and planned Advent support.
Our What if... theme last summer was Courageous Advocacy and we learnt about the past and present courageous advocates, as well as tried to prove that we can all become courageous advocates. If only we continue defending those who cannot defend themselves, fighting for equality and diversity in the world, and help those in need.
Our regular collective worship and assembly themes explore the issues of global poverty and injustice, as well as the exploitation of the natural world. We aim to be the courageous advocates just like Malala Yousafzai or Greta Thunberg - we can help them change the world for the better!
This year, we will continue on our journey to achieve the Silver Award,
by actively participating in action to improve
the local, national and global environment.
This academic year, Year 6 pupils are learning about the lives of children in the world's poorest slums.
Year 5 pupils organised The Beetle Drive to raise funds for Malala Fund
to support girls in education.
They prepared their own Power Point Presenations. Here is an example.
Click on these Year 4 poems about the volcanoes. Children were thinking about the aftermath of a natural disaster and the help people in the affected areas might need.
Year 2 children were showing concern for people with poor sanitation. They explored the importance of toilets and taps in schools and homes. They thought of people, who do not have access to the toilet or water to keep themselves clean.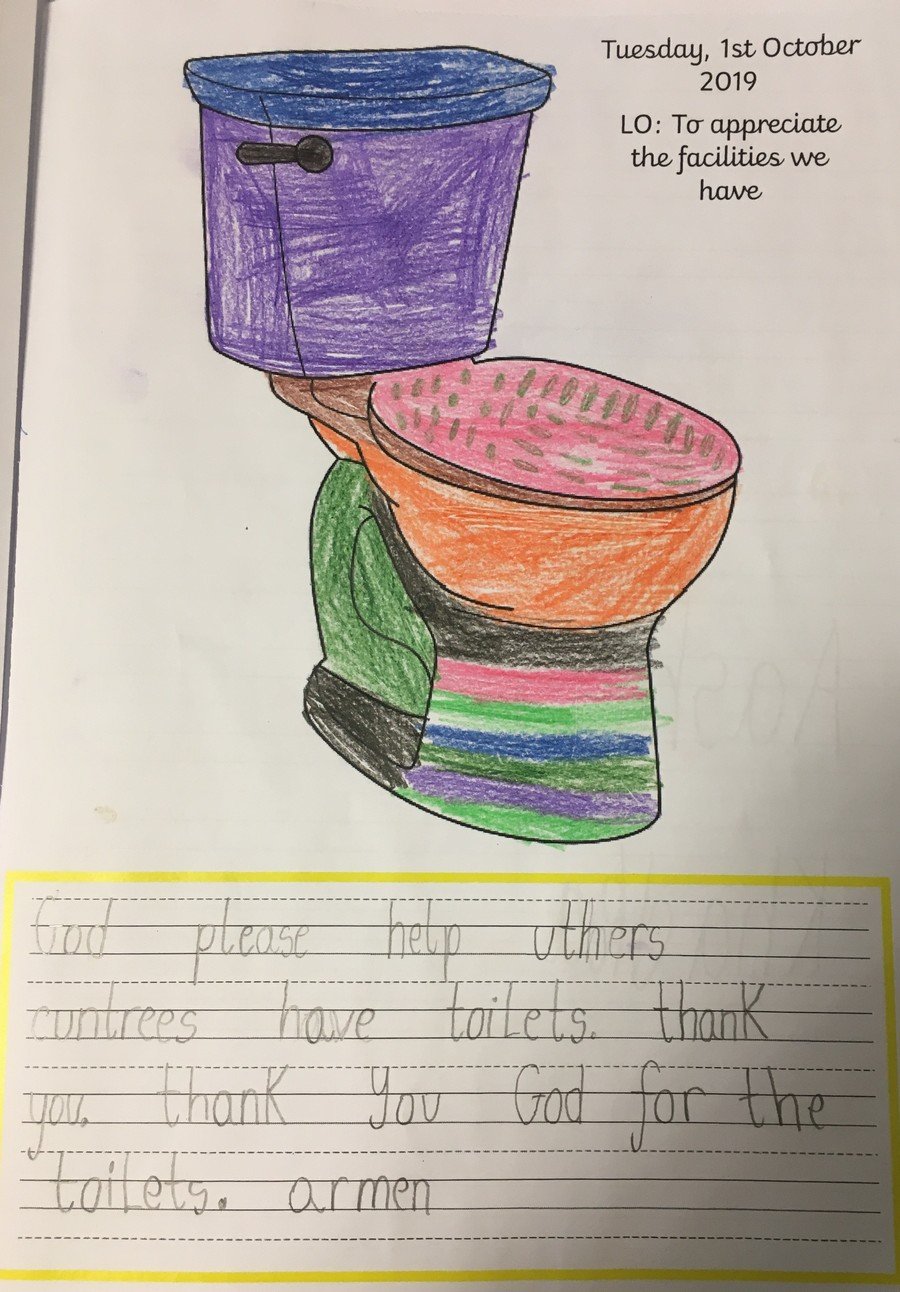 Our Year 1 children are very concerned about the lack of clean water around the world. If you would like to support their charity, follow the link below.
Reception Class pupils were thinking about the poverty and hungry people around the world. They were writing prayers for those families, who do not have enough food to eat.
Thank you to everyone , who donated the food items and money for our Harvest collection in aid of local Infinity Initiatives charity.
To find out more about their work, visit their website www.infinitycic.uk or pop in at 298 Mossley Road, Ashton-under-Lyne. Their cakes and coffee are delicious!