Parochial School an inclusive, inspirational school, preparing for the future;
living, learning and growing together in God.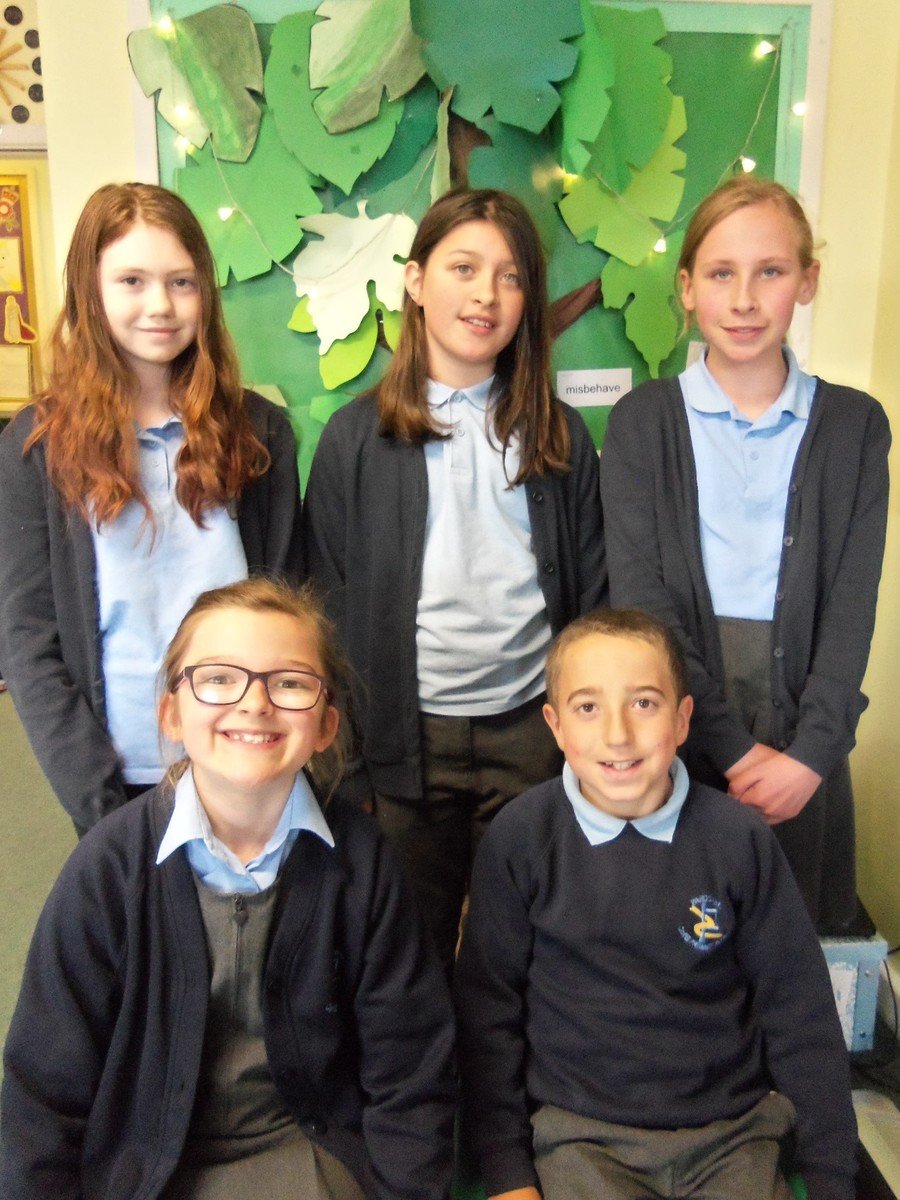 Heidi, Romy, Phoebe (Year 6)
Scarlet and James (Year 4)
'If you can?' said Jesus. 'Everything is possible for one who believes.' Mark 9:23
Ethos Group
2020 -21
This year's members of the Ethos Group are: Romy, Phoebe and Heidi (Year 6), Alex and Scarlet (Year4)
We meet weekly and plan activities to enrich our RE curriculum and the ethos of the school.
This academic year, things are a little different at Parochial. We are unable to lead the whole school and key stage assemblies, or walk to St Michael's Parish Church to worship together. Despite the difficulties, we are still planning to organise a special Harvest celebration and collection of food to donate to the local charity 'Infinity Initiatives' assemblies. We will talk to the children about their class collective worship sessions and organise Parochial RE week, Advent and Lent activities and assemblies.
We are very proud to have been awarded a Bronze Global Neighbours Certificate and we will continue working towards the Silver Award. We are also very proud to have supported The Willow Wood Hospice over the last few years and our chosen local charity 'Infinity Initiatives. We managed to raise over £600 during the Lent season.
Thank you to everyone who supported us.
Summer 1 Class Altars are Pentecost themed.
Pentecost is the festival when Christians celebrate the gift of the Holy Spirit. It is celebrated on the Sunday 50 days after Easter.
It is also called Whitsun. Pentecost is regarded as the birthday of the Christian church, and the start of the church's mission to the world.
The Holy Spirit is the third part of the Trinity of Father, Son, and Holy Spirit that is the way Christians understand God.
Pentecost is a happy festival. Our altars are red, with flame or dove symbols of the Holy Spirit.
Our assembly themes are:
Monday 19th April 2021 – St George's Day (23.4.)
Monday 26th April 2021 – Hope and aspirations
Tuesday 4th May 2021 – Ramadan and Eid
Monday 10th May 2021 – Ascension of Jesus (13.5.)
Monday 17th May 2021 – Pentecost (Whit Sunday 23.5.)
When the day of Pentecost came, they were all together in one place.
Suddenly a sound like the blowing of a violent wind came from heaven
and filled the whole house where they were sitting. Acts 2:1-2
They saw what seemed to be tongues of fire that separated
and came to rest on each of them.
All of them were filled with the Holy Spirit
and began to speak in other tongues as the Spirit enabled them. Acts 2:3-4
After they prayed, the place where they were meeting was shaken.
And they were all filled with the Holy Spirit and spoke the word of God boldly. Acts 4:31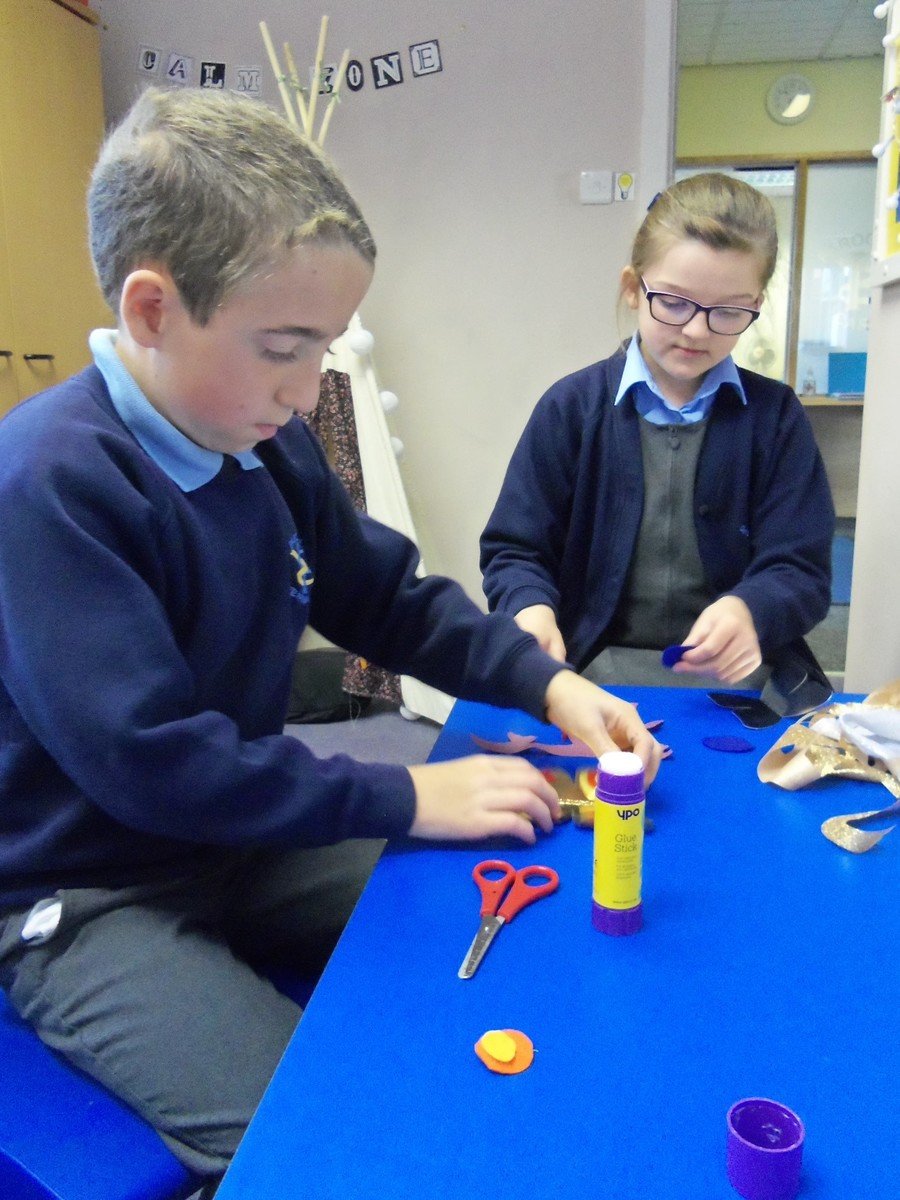 James and Scarlet were creating a piece of art,
thinking about the values important to Parochial pupils and our community.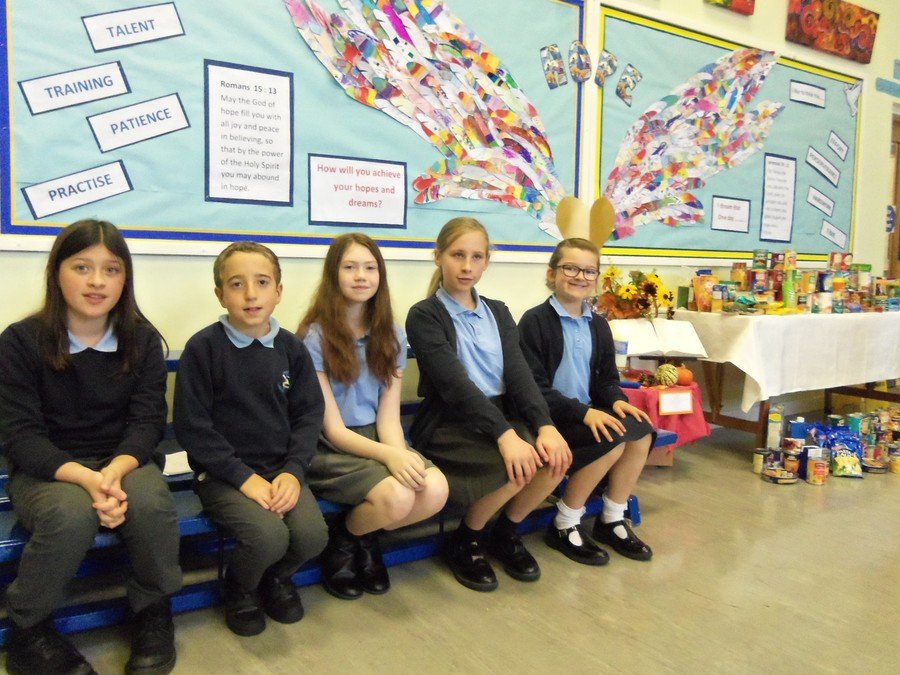 On Wednesday, 7th October 2020, our new Ethos Group members presented the HARVEST assemblies for the very first time.
Alongside Rev Ben, they read the Gospel readings, poems and prayers beautifully and clearly.
They reminded us about the people in our community, who need our help and thanked everyone , who donated food for Infinity Initiatives, our local charity.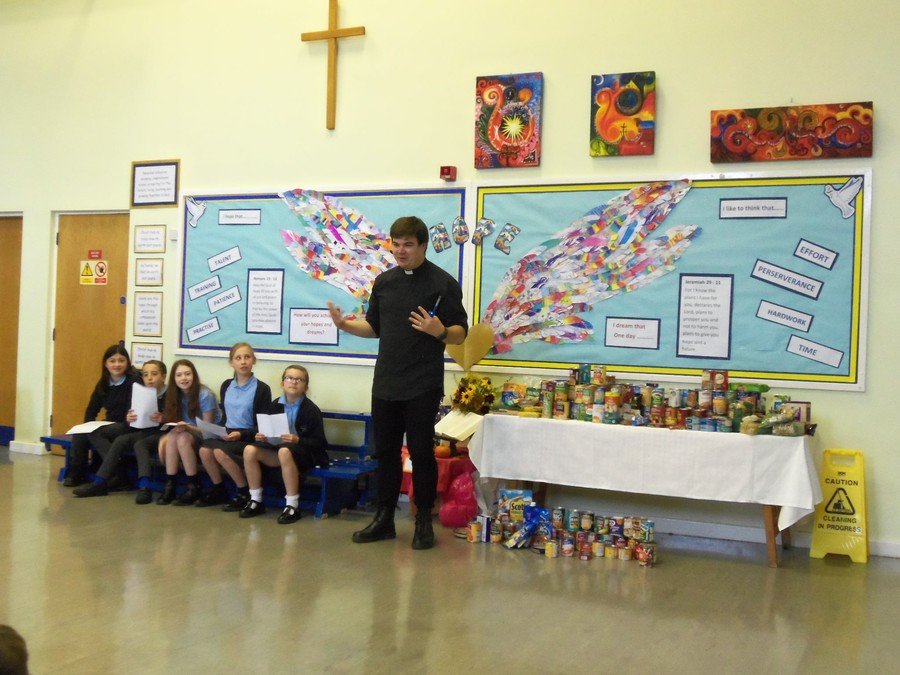 God created foods to be received with thanksgiving
by those who believe and know the truth.
For everything created by God is good. 1 Timothy 4:3-5
I love you, Lord, my strength.
The Lord is my rock, my fortress and my deliverer;
my God is my rock, in whom I take refuge,
my shield and the horn of my salvation,
my stronghold. Psalm 18:1
For a child will be born to us, a son will be given to us;
and the government will rest on His shoulders;
and His name will be called Wonderful Counselor,
Mighty God, Eternal Father, Prince of Peace. Isaiah 9:6
Ethos Group children were very busy during the Advent season, encouraging children to think of the ways to improve their lives and help others.
They visited all our classrooms and had a look at our Advent altars and Advent promises. They also wrote lovely Christmas postcards to the friends at St Gabriel's Church.
Ethos group carefully followed Mary and Joseph's journey to Bethlehem around Parochial.
And what about visiting staff's homes? Mary and Joseph were very well cared for...
Advent - Time of Preparation:
Therefore, prepare your minds for action, keep sober in spirit,
fix your hope completely on the grace to be brought to you
at the revelation of Jesus Christ. 1 Peter 1:13
We wait in hope for the Lord;
he is our help and our shield.
In him our hearts rejoice,
for we trust in his holy name.
May your unfailing love be with us, Lord,
even as we put our hope in you. Psalm 33:20-22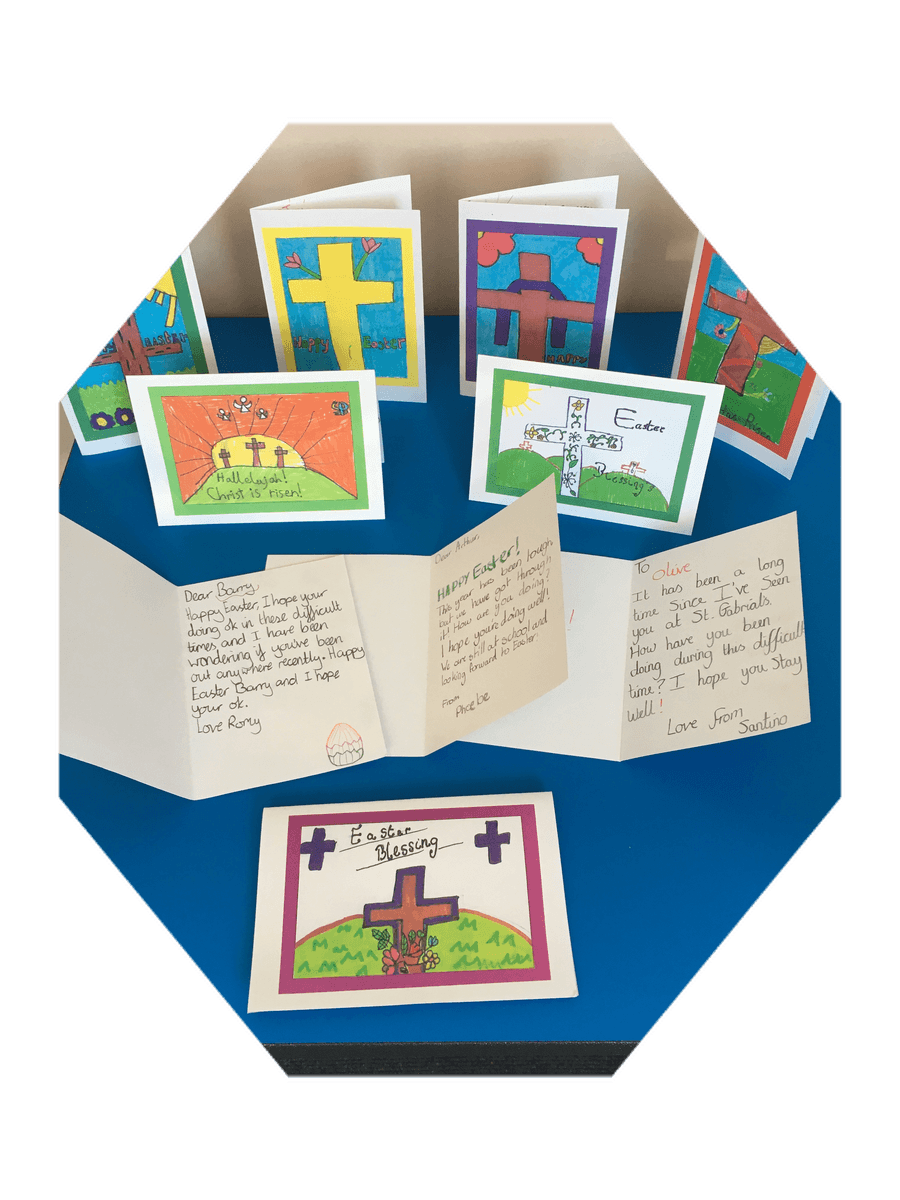 Members of the Ethos Group wrote lovely Easter cards for our elderly friends at St Gabriel's Church again.
They cannot wait to visit them and cheer them up in person.
We are preparing our class altars, awaiting the full school opening on Monday 8th March.
We are trying to complete an act of kindness very day during this year's Lent. Take a look and get inspired.
But those who hope in the Lord will renew their strength.
They will soar on wings like eagles;
they will run and not grow weary,
they will walk and not be faint. Isaiah 40:31
Our Easter Egg Hunt Competition was a great success. We raised £140. Thank you to everyone who joined and thank you to the Ethos Group members for helping to organize this fundraising event.
Altogether, Parochial community raised incredible £524.60 through he sale of our Easter Egg raffle and Facebook fundraising by the Jones family.
All proceeds will go towards our new playground equipment.